Inflatable Interactive Game Rentals Northern Ca
Interactive Inflatable Games can provide the very best in Inflatable fun. All of our "Inflatable games" are great for both kids and adults. Whether you're battling against friends and family or just bragging rights let Party Jump bring our interactive inflatable games to your next party. Serving Northern California, Santa Rosa, Marin County, Napa County, Sonoma County, Petaluma, Contra Costa, Windsor, St. Helena, Calistoga and much of the Bay Area.
Bumper Cars
35' x 35'
Bumper Cars are now available for rent! Our cars are FULL-SIZED, battery operated, and include a 35'x35' inflated corral. When the bumper cars start up so does the music to help participants feel as though they are truly at a country fair. Great for teen parties, corporate events, birthday parties, high school grad nights, and community festivals.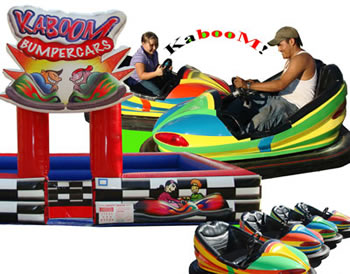 Boulderdash Obstacle Course
15'Wx48'Lx18'H
Competitors race through a tunnel, navigate the biff-n-bash pillars, try to knock down their opponent in the thunder ball room, shoot a basket, & exit. Blast for any children's birthday parties, company team building, teen parties, grad parties, festivals, etc.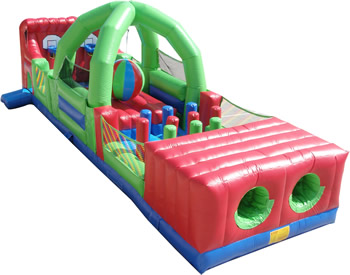 85' Inflatable Zip Line
18'Wx85'Lx23'H
Climb the stairs to the top platform after being harnessed below, get attached to the Zip Line cable and experience the exhilarating thrill as you zoom down the Zip Line like you were Indiana Jones. Everyone loves flying through the air and anyone can do it!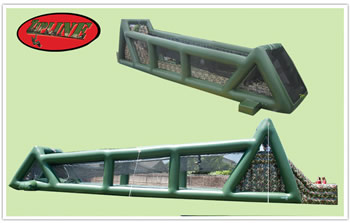 Mini Zip Line
45'Lx12'Wx15'H
This zip line is the perfect solution if you want something different and exciting for your child's party. Includes 2 zip lines, a seated zip line attachment, & handles. Great for children 10 and under.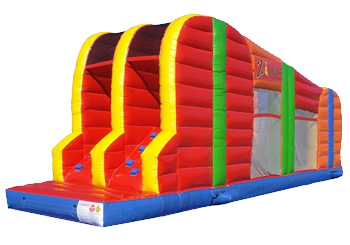 Zorb Ball
Giant inflatable human hamster ball. Can also be used to walk on water in our Aqua Dome. A human sphere is a giant inflatable ball that is big enough for a person to fit inside. The clear inflatable ball is made of vinyl. They are heat‐sealed, airtight, and extremely durable. Once inside, you can walk or run to roll the ball forward. Think of it as a giant hamster ball, where the person inside is the hamster. Set up cones and it can be used as a race course. Reenact scenes from the popular television game show, "American Gladiators," and embrace your competitive spirit. Players then use their hands and feet to move the ball and rotate it forward from the inside. Once you get the ball rolling, you can build up speed and start running as you race against your opponent.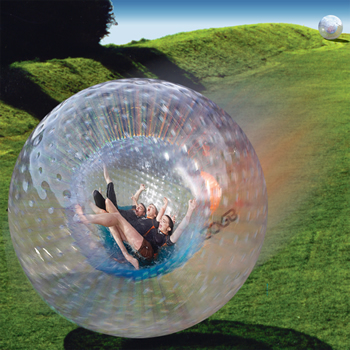 Aqua Dome
The Aqua Dome includes a 26' inflated dome tent, pool, and the zorb ball. Participants race around & get the experience of running on water. Water can be added inside the zorb ball so the participant can swish around in it as it's rolled. We can add LED lights and music for a super cool evening experience.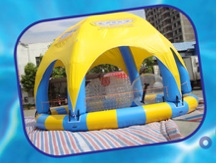 TSUNAMI
20'W x 40'L x 31'H
It's BIG it's BAD it's the TSUNAMI. This tropical theme inflatable slide is awesome to look at and an absolute blast to ride. A definite show stopper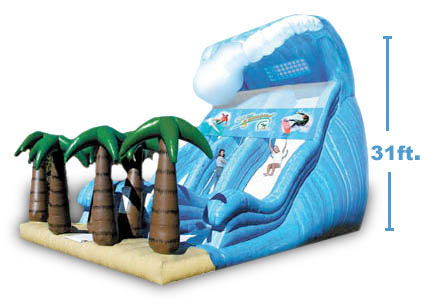 WILD ONE SLIDE AND OBSTACLE COURSE
20'W x 54'L x 22'H
All you can say when you see this amazing inflatable is Whoa That's Cool. Double Slides in 2 directions keep the fun going non stop. The climbing wall on the opposite side is nothing to sneeze at either. Loads of fun an instant favorite.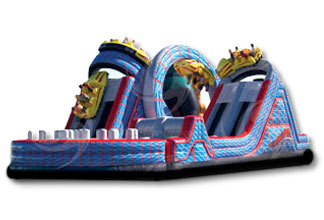 THE GIANT SLIDE
18'W x x42'L x 33'H
When you really need to pull out all the stops. The Giant Slide is the answer to any and all events, be it high school fundraiser or church picnic. The Giant Slide is a sure fire hit. It truly towers at over two stories high. Safe, fun, it's a winner hands down.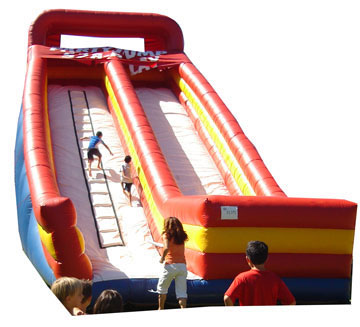 RADICAL RUN
Simply an incredible inflatable. Part slide, part obstacle course, and all fun. It features a unique secondary setup option.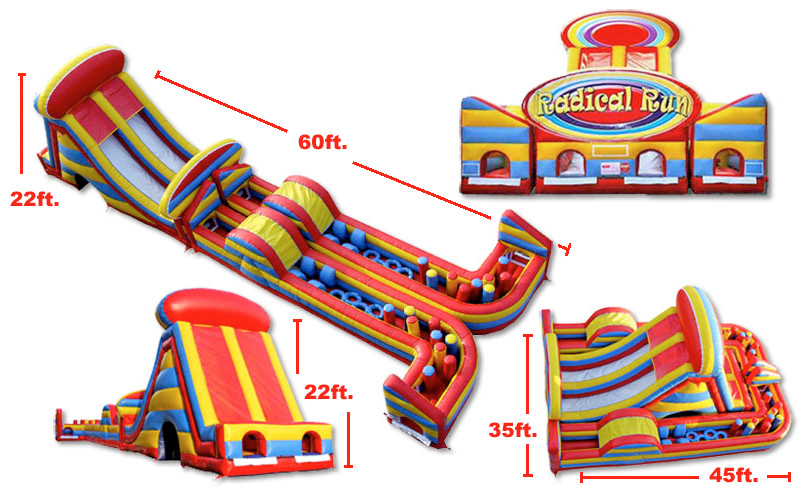 THE WIPE OUT
Can you survive the Log Slammer?! Four of you are trapped floating in the swap on tree stumps trying to avoid the swinging log stumps. Do you jump or do you duck? Either way just make sure that you don't get snapped up by the hungry Alligators waiting for you
THE BUZZ SAW
Buzz saw pits you against the out-of-control saw blade from the local mill. You have more than one option with this game, either hold onto the blade for as long as you can or jump from stump to stump using the blade to cross the swamp to safety - but be quick because you are up against the clock.

EXTREME SKATE SLIDE
20'W x 40'L x 33'H
This is the ultimate show stopper! Kids (even some adults) won't be able to keep themselves away. When you want to bring out the heavy hitter get this giant inflatable.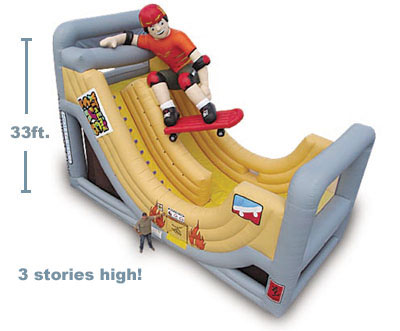 THE MECHANICAL SURFBOARD aka ROBO SURF SIMULATOR

The Dome Defender
20'W x 40'L x 33'H
This is the ultimate show stopper! Kids (even some adults) won't be able to keep themselves away. When you want to bring out the heavy hitter get this giant inflatable.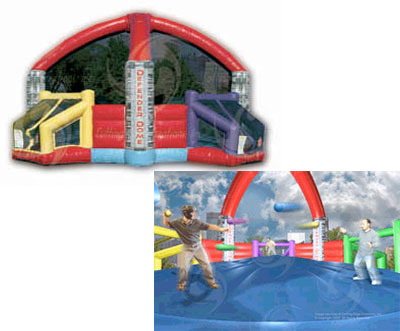 The PIRATE OBSTACLE COVE
44'8"L x 36'W x 17'H
Double Obstacle course with 2 - 17 foot slides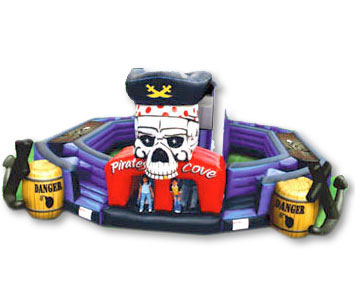 The PIRATE OBSTACLE COVE
25' x 25
The Disco Dome is a super cool extra-wide bouncer with plenty of room to do your best Saturday Night Fever moves. Includes disco lights inside and a sound system pumps your favorite music inside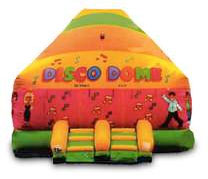 Sports Adventure
34" L x 15' W
The Kids will have a great time in this action packed multi sports inflatable. This Gieant Jump House has soccer goals at each end and basketball hoops too. There's even an optional vollyball net.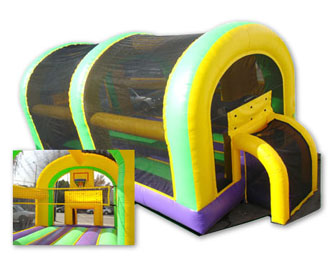 Sports Arena
20' x 25
Giant Bounce with 2 basketball hoops inside.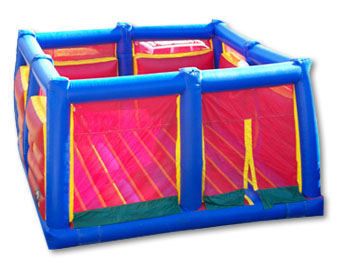 Thunder Bull
16" L x 16' W
Thunder the Mechanical Bull has several speeds and movements. He can entertain any type of rider from junior cow poke to true cowboys. Thunder has been updated to be both safer and more exciting to ride.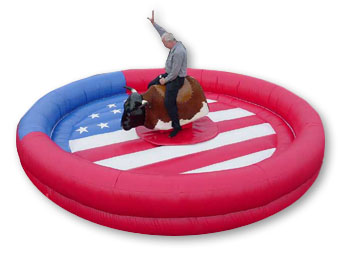 Thunder the Mechanical Bull is fully insured and even endorsed by the insurance industry so you can enjoy him with peace of mind. Thunder is extremely popular for corporate team building functions, community events, teen or adult parties, school or church fundraisers and fairs.
Wrecking Ball
304" L x 30' W
WRECKING BALL 30' x 30' Swing the wrecking ball and try to take out your opponent .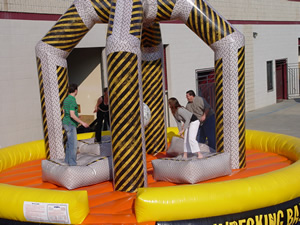 King of the Mountain
Climb your way to victory atop this giant inflatable obstacle .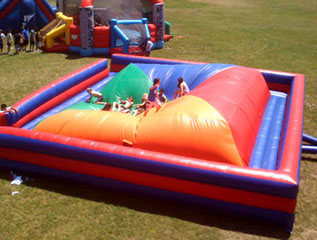 Pillow Bash
15 x 15
Act out friendly aggressions on our new Pillow Bash. sit on the padded beam and wail away at your opponent until they fall to the pillow soft area below.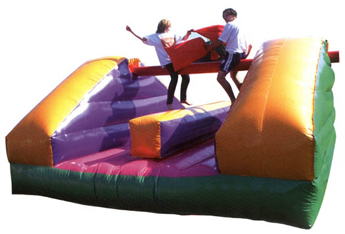 Rock N Roll
20 x 20
This is a giant bounce and jousting game with a twist. Try to keep your balance as the inflated disc moves around.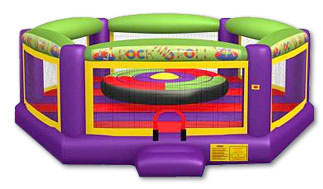 Bungee Basket Ball
This sports inflatable is an absolute blast to play. Combine the thrilling challenge of a bungee race with the skill and concentration of a basketball scoring finish.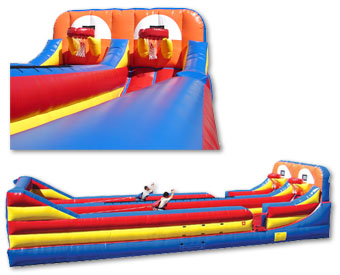 Bungee Joust Combo
18'W x 34'L
This is a giant bounce and jousting game with a twist. Try to keep your balance as the inflated disc moves around.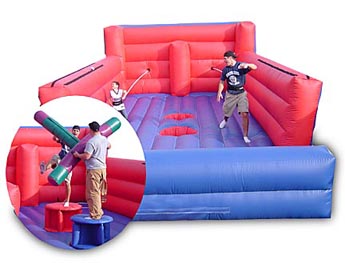 Slam Dunk
Do your best Michael Jordan impersonaltion with this high flying slam dunk inflatable.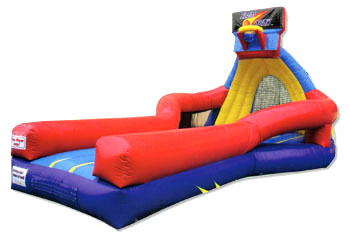 Baseball Challenge
10'W x 12'L
Batter Up! Live out your Major League Dream.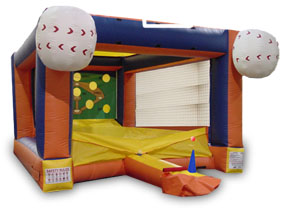 Sports Carnival
See if "you got Game" and test your skills at 3 different sport challenges.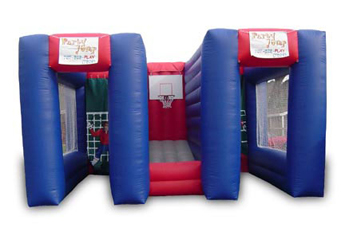 Giant Trikes
These adult size tricycles are a blast. Have fun trying to pedal your way to the winner's circle. Comes with an inflatable Race Course.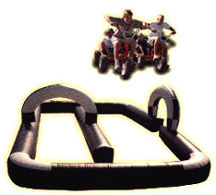 Call Us Today to Get Started Planning Your Next Party or Event! 707 528-7529